What Types of Gutters Are Available?
There are several gutter profiles available today, and Austin Gutter King is happy to offer a variety of styles so you can personalize your home. We invite you to examine the multiple types of gutters and downspouts to select the best combination for you. ​​​
We combine the highest quality materials and craftsmanship to ensure the best results.
Gutters are an essential part of the home and come in various types to suit different needs. With so many options, it can be difficult to know which type is right for your house. This article will provide a comprehensive overview of the different types of gutters available, including their advantages and disadvantages. We'll discuss gutter profiles, including K-style gutters, box gutters, half-round gutters, fascia gutters, and more.
Ogee (K-style) Gutter
The Ogee gutter profile, also known as K-Style and named after the Roman ogee curve,  is the most common in our region, which makes it easy for us to match any existing gutters on your home or business. Characteristics of this profile include the Roman Ogee curved face, and the miters and end caps use accessory parts.

Most affordable gutter
Seamless
Available in 5″, 6″, & 7″
Utilizes accessory end caps and miters (compared to the custom, hand-cut miters featured on other profiles)
Straight-Face Gutter
The straight-face gutter profile is a modern, affordable, designer alternative to the traditional OGEE gutter style. It is also seamless and requires skilled craftsmen to hand-cut the miters and end caps. This style profile imitates a classic fascia trim, offering a clean, custom aesthetic. Austin Gutter King is the ONLY company offering 5″, 6″, and 7″ straight-face profiles.


Seamless
Features hand-made miters and end caps (no accessory strips)
Custom, clean, modern look
Available in 5″, 6″, & 7″
Half-Round Gutter
Half-round gutter profiles are typical on Arts-and-Craft style and modern homes and can be customized to fit your style. For example, you can choose to add external hangers or have them done in copper or galvalume for a unique look.

Seamless
A variety of hanger options to choose from
Available in 6″ seamless or 8″ sectional
Less likely to clog
Quarter-Round Gutter
This style is exclusive to Gutter King and brings all the beauty of a rounded gutter but adds higher capacity. Each piece is hand-made; no machine could produce this look. Quarter-round fills large fascias and is a genuinely unique and designer look for your home. This is perfect for large capacity or tile roofs that might overwhelm a traditional or half-round gutter.

Sectional
Exclusive to Gutter King
Custom high-capacity alternative to half-round
Stylish, unique, functional
Seamless Box Gutter
Our seamless box gutter offers the style of gorgeous box gutters, common in modern or commercial designs, but with the peace of mind of a seamless gutter. Combine these with a smooth box downspout or round downspout for a sharp look!
6″ seamless
Large capacity
Modern, contemporary style
Custom Box Gutter
Finally, if the above gutter profiles do not meet your needs, our experienced team can build a custom box gutter for your residential or commercial property. These are perfect for customers who may need a specific width, depth, shape, or look.
Residential or commercial
Seamed
Any size
Custom-made to your specifications and shape.
Custom box gutters can be hand-made in our shop. These are perfect for customers who want a specific width, depth, shape, or style. We can produce this with a lip or without a lip.
Downspouts
DOWNSPOUT SIZES
2″x3″ rectangular – rated up to 500′ of roof (Not recommended because they create a bottleneck in most systems)
3″x4″ rectangular – rated up to 1200′ of roof (Gutter King's standard spout)
4″x5″ rectangular (custom) – rated up to 2000′ of roof
4″ Round – rated up to 1200′ of roof
Corrugated
Corrugated downspouts are the standard downspout for residential installations. They come in 2″x3″ and 3″x4″ sizes. To better protect our systems and allow maximum flow, Gutter King only uses the larger 3″x4″ corrugated spouts, which handle about 1200 sq/ft of roof per downspout compared to about 500 sq/ft for the smaller. Its characteristics include rounded edges, corrugated lines on each face, and seams every 10 feet since these come in 10′ sticks. The elbows have a gentle bend and are crimped to change the direction of the spout.
Round Spout
Round spouts are an affordable way to make any system look more custom. Because they are round, their bends are not limited to the direction of the wall surface, and they fit nicely into drainage pipes in the ground. They have a traditional look and go well with half-round and 6″ OGEE and straight-face gutters. Their elbows have a gentle bend and are crimped. Custom smooth elbows can be made out of copper.
Smooth Box Spout
Smooth box spouts are hand-made by our craftsman and are a custom fit for your project. These spouts are typically 3″x4″ but can be made in any size rectangle or square (other common sizes are 4″x4″, 4″x5″, and 4″x6″). The rakes and elbows feature hard angles and look very nice against large roof homes and homes with dramatic angled features.
Standard Gutter Sizes
Gutters come in a variety of sizes. Many of our profiles come in multiple sizes, and your project consultant can help you determine which size best fits your home.
5″ seamless – standard size & profile. Designed for composite shingle roofs and moderate flow.
6″ seamless – 40% more capacity than 5″. Designed for heavy-flow areas, metal roofs, and significant downpours. (Recommended on most Texas homes)
7″ seamless – designed explicitly for barrel tile roofs and severe heavy-flow areas.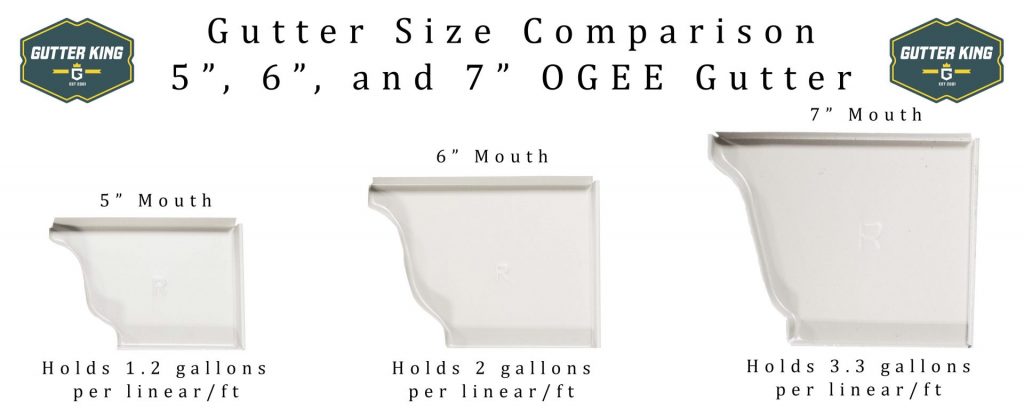 Final Word
Choosing the right gutter profile for a home has many important considerations. Many factors need to be taken into account such as the size of the roof, climate, and budget. Understanding the differences between gutters can help homeowners make an informed decision when choosing what type of gutter is best suited for their needs. Seamless gutters are becoming increasingly popular due to their durability and low maintenance, while K-style and half-round gutters are also popular options depending on the aesthetic desired.