Say Goodbye to Cleaning Gutters, Forever!
Gutter Glove Pro is the latest innovation in gutter protection technology. With a number of features that help protect gutters from debris, Gutter Glove Pro is designed to keep homes safe from water damage and pest infestations.
Austin Gutter King is the exclusive provider of GutterGlove Pro gutter guards in Central Texas. You will never have to clean your gutters again when our expert team installs these as part of your gutter system.
GutterGlove Pro offers the best value, safety, and performance of any gutter guard on the market. Its innovative design utilizes high-quality materials such as aluminum and stainless steel to protect your home or business from water damage, foundation erosion, and endless maintenance or cleaning. It filters out all debris before it enters your gutters and fits almost any type of gutter or roof. When installed at the same angle as your roof, debris moves over the top of your gutters, just like it eventually moves off of your roof.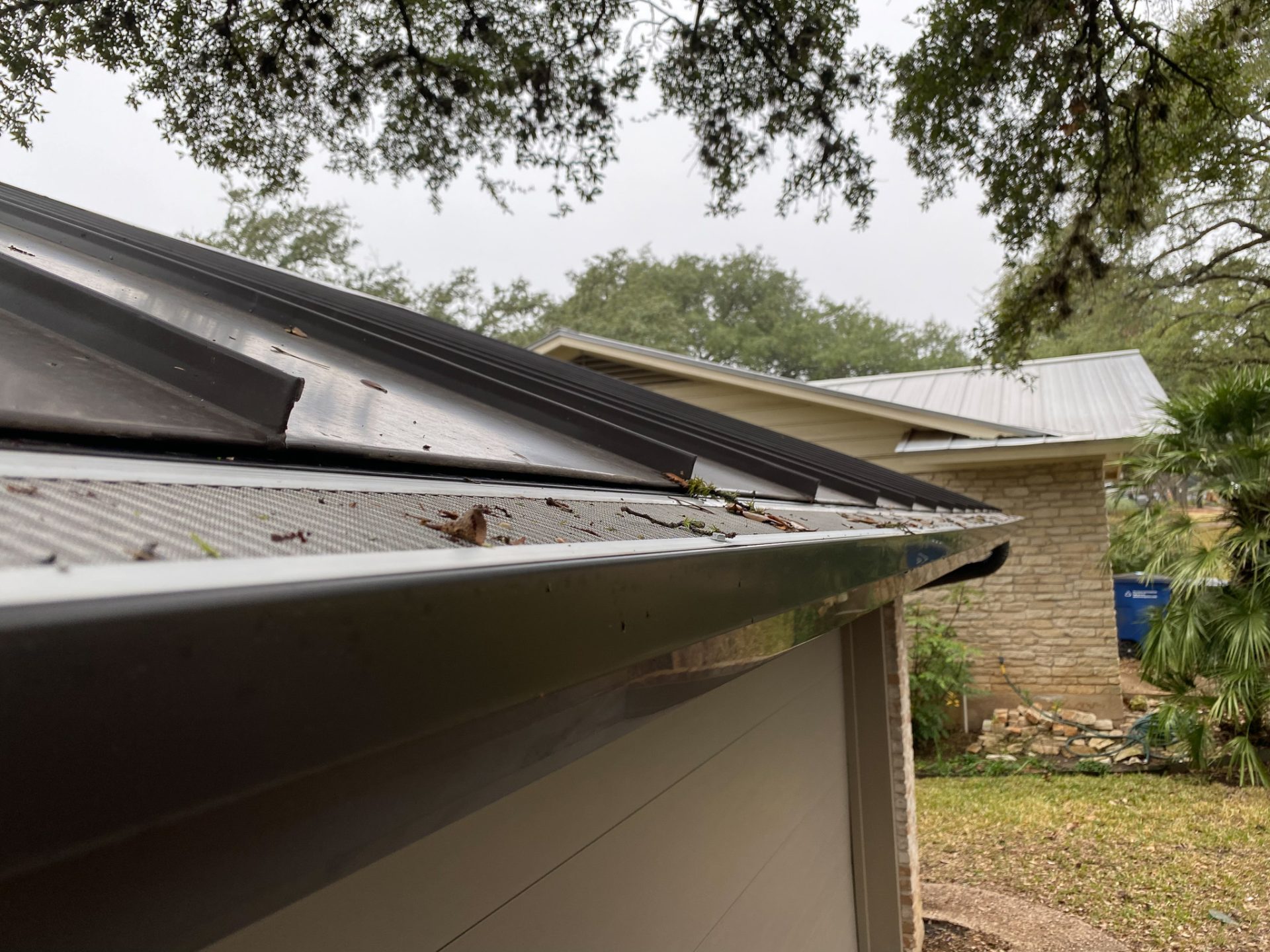 GutterGlove Pro is high-performing and innovative. It can filter over 150 inches of hourly rainfall and is still barely visible from the ground. Its unique wing configuration allows flexibility for endless installation options as well and can be installed on any new gutter that Austin Gutter King offers.
Its heavy-duty, stainless-steel micro-mesh screen lining not only keeps out a wide range of debris and buildup but also keeps insects from entering and clogging up your gutter system. Specifically, GutterGlove Pro gutter guards are made with the finest Type 316 surgical grade stainless steel micro-mesh, keeping the smallest debris from entering your gutters. It also utilizes V-Bend Technology and is resistant to rust and warping.
GutterGlove Pro
GutterGlove Pro is also highly eco-friendly. It is used throughout Texas and North America as a pre-filtration system to harvest rainwater, like rainwater collection assists in water conservation efforts. GutterGlove Pro uses stainless-steel mesh measuring 550 microns, far exceeding the standard for rainwater collection mandating the hole size on gutter guards to be under 1,500 microns.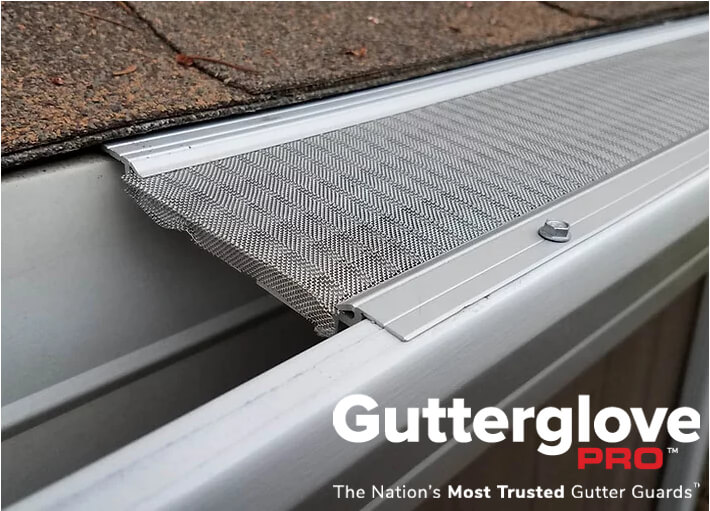 GutterGlove Pro is the most effective gutter guard on the market today. Austin Gutter King is so confident in this product that we offer the industry-leading 40-year warranty for our GutterGlove Pro gutter guards.
Effective
GutterGlove Pro gutter guards keep leaves, pine needles, and roof grit out of your gutter while providing maximum water flow through your gutter.
Stainless Steel
The first feature of Gutter Glove Pro is its stainless steel mesh construction, which allows for maximum durability and strength against trees, branches, and other debris. It also has an advanced filtering system that helps prevent leaves and dirt from clogging up the gutter system. The filter also helps keep out pests such as birds or rodents who might otherwise try to enter the home through the roofing structure.
Rainwater Filters
GutterGlove Pro gutter guards will improve water quality by filtering out leaves, pine needles, and small debris from your gutter and rainwater harvesting tanks.
Install on ANY Gutter
In addition to superior performance, Gutter Glove Pro looks great too! Its sleek design complements any style of architecture while providing superior protection against all kinds of debris.
GutterGlove pro can be installed on any new gutter that Austin Gutter King offers and in most cases can be retrofitted to existing gutters as well.

Excellent Gutter Guard Choice
Gutter Glove Pro is an excellent choice for anyone looking to protect their home's gutters from clogging, debris buildup, and other damage. Its stainless steel micro-mesh design effectively filters out leaves, pine needles, and other material while allowing water to flow freely. The 40-year product warranty provides further peace of mind that your investment will be safeguarded. Installation is quick and easy with no special tools or skills required.