Rain chains: Decorative alternatives to downspouts
Rain chains are a stylish and functional alternative to a traditional downspout. They are available in a variety of materials and are both attractive and functional.
A rain chain serves the same purpose as a downspout to control the water to the ground, away from your foundation. Because it doesn't have to attach to the side of your home, it allows us to place it in areas where a downspout may not be desired.
Here are a few of the other items you may want to consider when designing your gutter system.
Top-Rated Rainchains
Rainchains create a soothing sound when rainwater runs through them and are visually appealing as the water cascades down them. Rainchains come in many styles and materials, including copper, aluminum, stainless steel, and brass.
Rain chains provide a beautiful and functional way to drain water from your gutters. Enjoy an artistic alternative to traditional downspouts.
Actual Client Photos
Our rain chains come with a LIMITED LIFETIME WARRANTY.
Round Cup Style Rain Chains
Cup designs offer the highest performance and efficiency. The connected, open-bottomed cups act as funnels to channel water from the top of the chain to the bottom. In most rainfall conditions, cup styles splash less than link styles. Some example styles are pictured below and many more are available.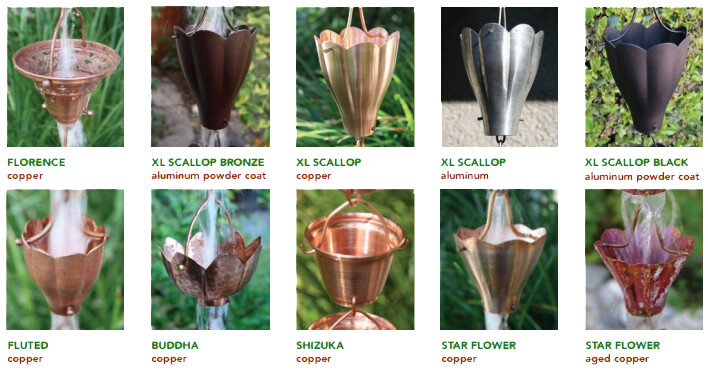 Square Cup Style Rain Chains
Some example styles are pictured below.  Many more are available. 
Link Style Rain Chains
Link designs may splash more than cup styles, and this may be important when they are considered for areas near doors, windows, or walkways. From plain link chains to more
decorative combinations of shapes, link chains offer the most open, airy look and clean lines. Some example styles are pictured below.  Many more are available.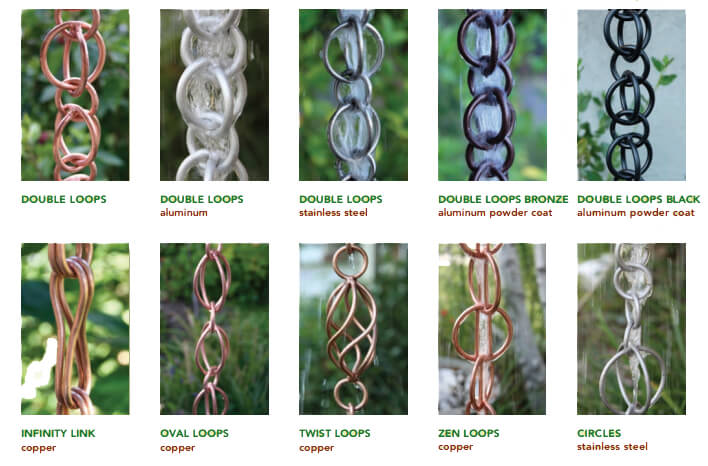 Garden-Themed Rain Chains
This product line, inspired by nature, includes flowers and animals. It reflects common garden themes, often echoed throughout the home and garden.
Splash Blocks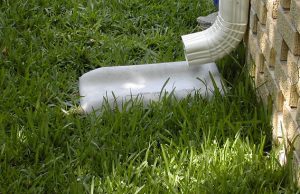 Splash blocks direct rainwater away from the foundation so that area is kept safe & dry. The downspout also prevents mud from splattering on the side of your home,
Texas code recommends getting the water as far away from your foundation as possible. We can include concrete splash blocks that won't get damaged from weed-eaters, mowers, blow away in the wind, etc. Protect the soil density beneath any foundation with our Splash Blocks.
Collector Boxes