Buda TX Rain Gutters – Installation & Repair
At Austin Gutter King, we offer top-of-the-line rain gutter installation and repair services for Buda, TX. Our expertise in rain gutters guarantees you the best quality products with the highest level of customer service. We understand the importance of having a properly installed gutter system, and we strive to ensure your gutters are up to the task.
Buda Gutters Installation Services
At Austin Gutter King, we specialize in providing customized gutter systems to fit the exact needs of our customers. We consider drainage requirements and aesthetic considerations when discussing the installation of your new rain gutters. Whether you need residential or commercial rain gutters installed, our experienced professionals can help you do the right job.
Gutter Types
Ogee (K-Style) Gutter
Ogee gutters are the most popular type of gutter system, and they feature an aesthetically pleasing K-style design. Ogee gutters have a trough shape with one curved side, allowing for improved water drainage and more efficient runoff. These gutters are available in several materials, including galvanized steel, aluminum, zinc, copper, and other metals. They are also relatively easy to install and maintain, making them a cost-effective solution for most homeowners.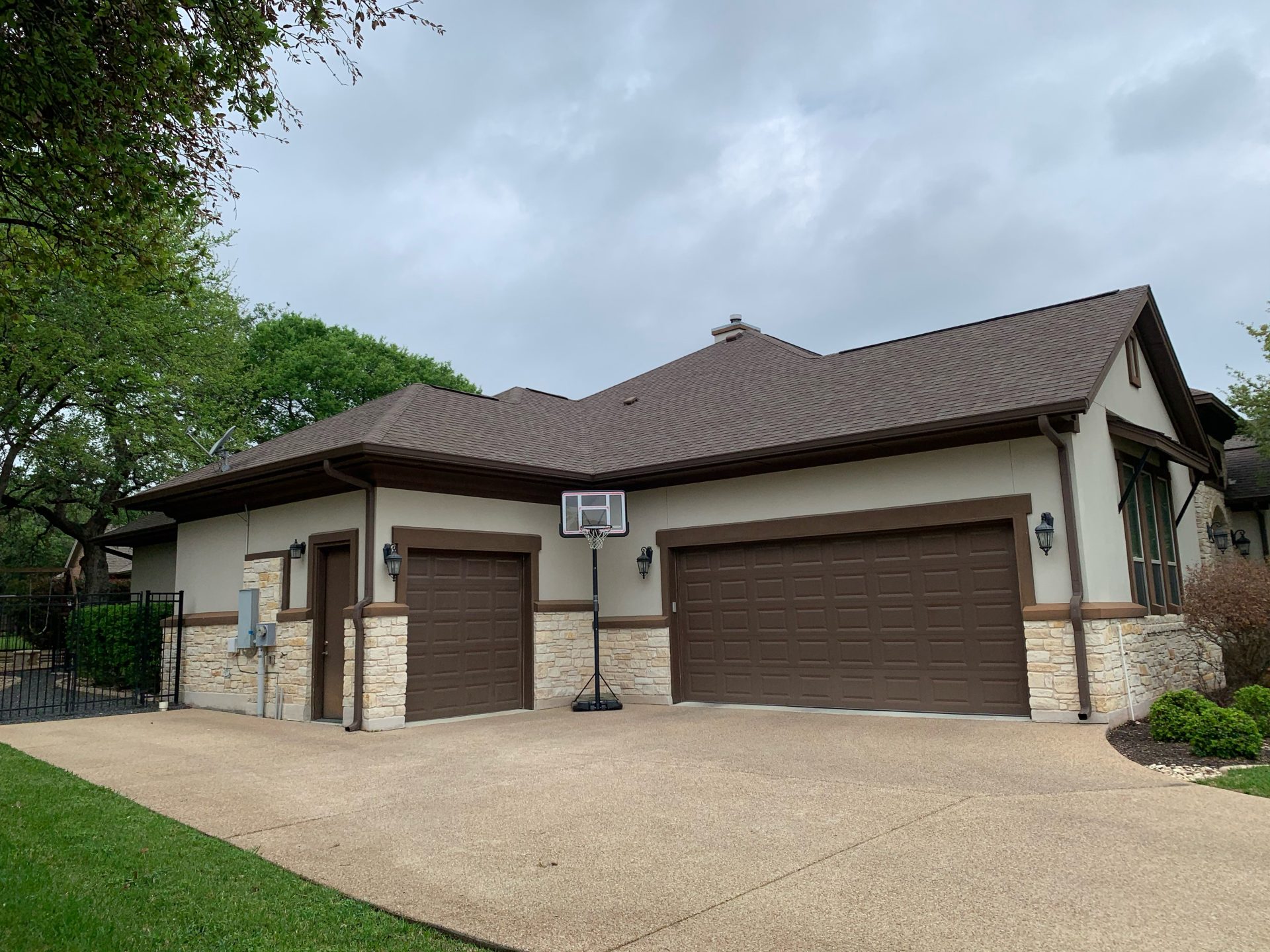 Straight-Face Gutter
Straight-face gutters feature a rectangular shape with no curves or angles. This simple design makes it easier to clean and less prone to clogs than other gutters. Straight-face gutters come in various materials, including aluminum, vinyl, steel, and copper. They are usually cheaper than other gutter systems, but their lack of angles may require more frequent maintenance.
Half-Round Gutter
Half-round gutters feature a curved bottom that reduces clogging risks and directs water away from the roofline. These gutters can be made from aluminum, galvanized steel, copper, vinyl, and zinc. Half-round gutters can be difficult to clean due to their curved shape, but they can help improve water flow and provide better protection against water damage than straight-face gutters.
Quarter-Round Gutter
Quarter-round gutters are similar to half-round gutters but feature only half the radius of the latter. As such, they are easier to clean and provide greater flexibility regarding installation. Quarter-round gutters can be made from aluminum, galvanized steel, copper, vinyl, and zinc. They provide excellent water flow capacity and are often used in homes with limited space.
Seamless Box Gutter
Seamless box gutters are a relatively new type of gutter system that offers improved water collection and flow capacity compared to traditional gutter systems. These gutters require no seams and are usually installed by professionals who use special tools to ensure the installation is precise and leakproof. Seamless box gutters come in various materials, such as aluminum, copper, steel, and vinyl.
Custom Box Gutter
Custom box gutters are designed for specific applications and often feature custom shapes, sizes, and designs to meet various drainage needs. These specialized gutters can be made from aluminum, copper, steel, or other metals, depending on the requirements of the home or building. Custom box gutters usually require professional installation for optimal performance and results.
How Gutters Protect Your Buda Home
Guttering is critical to any home built in Austin or any area susceptible to heavy rainfall. Not only do gutters help protect your foundation from water damage, but they can also save you money and enhance the aesthetic of your home. Here's how gutters help keep your home safe and secure:
Protects Your Foundation
Rainwater that flows freely off roofs can seep into the foundation of a house, leading to considerable damage in the future. Well-installed gutters direct water away from your home's base, thus preventing costly foundation repairs.
Protects Fascia and Soffits
When left unchecked, rainwater can saturate facia boards on the roof of a home, leading to rot, mold, and other damage. Routing rainwater away from these vulnerable areas can help keep them in good condition and reduce the need for costly replacements.
Protects Landscaping
Heavy rainfalls can quickly wash away landscaping and cause yards to become flooded. Gutters direct this runoff away from gardens and grass, helping conserve soil and minimizing the yard work needed to clean up after storms.
Prevents Soil Erosion
By routing rainwater away from your yard, gutters can protect your grass from washouts caused by heavy storms. This not only keeps your lawn looking its best, but it also saves you from having to buy and install new sod.
Enhances Your Home's Beauty
The Austin Gutter King team specializes in professional gutter installations that match your color palette and siding material. We provide a broad selection of materials and colors so you can find the perfect system for your home's exterior.
Added Value To Your Home
Not only does guttering have the immediate benefit of keeping your home safe and secure, it also adds long-term value to your property. Investing in a quality gutter system is a great way to protect your home and increase its market value at the same time.
Repair Services
In addition to offering installation services, we also provide expert rain gutter repair services for Buda, TX. If your existing gutters are starting to show signs of wear or damage, don't hesitate to call us. We'll assess the situation and ensure any necessary repairs are made promptly and efficiently. We aim to ensure your rain gutters remain strong and reliable over the long term.
Contact Us Today!
If you're looking for an experienced team to handle your rain gutter installation or repair needs, look no further than Austin Gutter King. Contact us today to learn more about what we can do for you!