San Antonio TX Rain Gutters: Installation & Repair
We are the premier provider of San Antonio gutter installation and repair services. Our team of experienced technicians is committed to providing you with quality workmanship and customer service that will exceed your expectations. Whether you need new gutters installed or existing gutters repaired, we've got you covered.
Seamless rain gutters offer superior protection for your home that lasts far longer than traditional gutters. Because these gutters are custom-fabricated on-site with a gutter machine mounted on a service vehicle, they're installed in one continuous line with no seams or joints. As a result, they don't have the same potential for leakage as traditional gutters do.

Seamless rain gutters come in both half-round and K-style configurations, can be crafted from copper, aluminum, and galvalume, and are designed to be aesthetically pleasing. To further enhance their protection, gutter guards can be added, blocking leaves and other debris from entering the gutter system. With over 20 years of experience in seamless gutter installation, Texas Gutter King is a highly reliable option for homeowners seeking a long-term, low-maintenance solution.
Gutter Installation Services
Texas Gutter King offers professional installation of all types of gutters in San Antonio. We install both aluminum and steel gutters—as well as seamless gutters for larger homes—and can customize our installations to meet your needs. We back up all of our installations with an industry-leading warranty, so you can be sure your investment is protected.
Our gutter solutions are designed to reliably protect your home from water and debris, avoiding potential issues such as clogging or foundation damage. With our expert technicians on hand, we guarantee a professional installation for long-lasting results.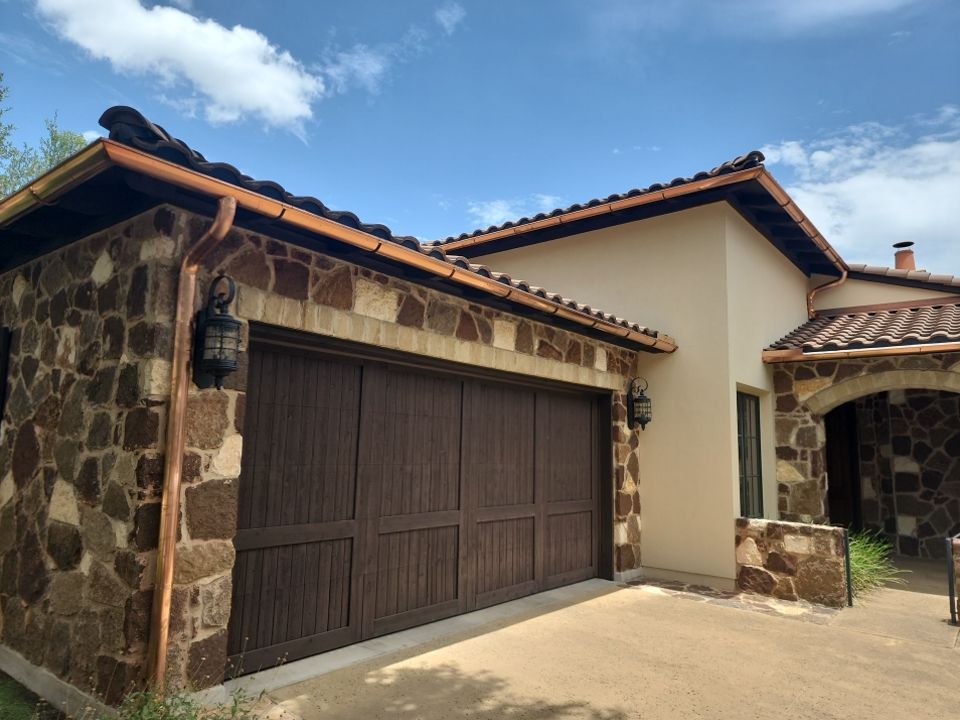 We understand that storms can cause unexpected damage, which is why we provide emergency repair and replacement services whenever necessary. Our team is equipped to replace rotten wood, recaulk, prime and repair areas with structural weaknesses. And of course, we work around your schedule to get your drainage system up and running with minimal disruption.
Our diverse selection of seamless gutter styles and products includes aluminum, copper, galvanized, and more. Plus, all our installations come with a 10-year craftsmanship warranty – it's even transferrable once! So if you're looking for quality seamless gutters in San Antonio, look no further. Contact us today to learn more about our services.
Types of Rain Gutters We Install
Whether you're looking for seamless aluminum gutters, copper gutters, half-round gutters, or any other type, our experts have got you covered. We carry a variety of quality products from trusted brands to guarantee that you get the best performance from your new rain gutters.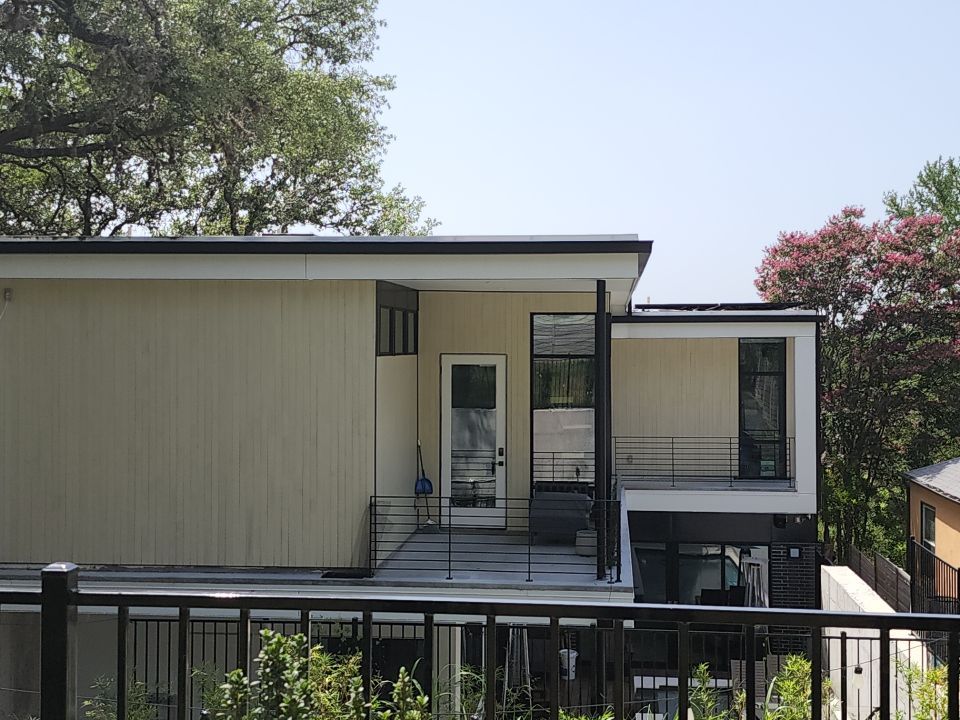 Gutters are an essential part of any home's roof structure, acting as a critical part of a home's waterproofing system. With the right type of gutter installed, homeowners can prevent water damage to their foundation and surrounding landscape. Fortunately, there are several different types of gutters available to meet the unique needs of every San Antonio home.
Ogee (K-style) Gutters
Ogee (K-style) Gutter is one of the most popular types of gutters available for residential homes. Easily recognizable due to its curved front and flat back, Ogee gutters come in a variety of sizes and materials such as vinyl or aluminum. They're designed with a slight bevel on the outside edge that allows for optimal water drainage while also providing a stylish look.
Straight-Face Gutters
Straight-Face Gutter is another popular option that features a flat face on both sides with slightly rounded edges to allow for proper drainage. These gutters are typically made out of aluminum or steel and come in various colors, making them perfect for customizing the look of your house.
Half-Round Gutters
Half-Round Gutter is a classic style often seen in older homes. Featuring a semi-circle shape with a flat flange at the top, these gutters come in round or rectangular shapes in copper, aluminum, or galvanized steel materials. While they require occasional maintenance due to sagging, they provide excellent water flow due to their shape.
Quarter-Round Gutters
Quarter-Round Gutter is similar to half-round gutters but with a smaller profile and narrower opening. These gutters are ideal for narrow side yards and small roofs, allowing homeowners to maximize the space they have available without sacrificing style. Like the half-round gutter, these come in copper, aluminum, or galvanized steel with rust-resistant coatings.
Seamless Box Gutters
Seamless Box Gutter works well in areas where heavy rainfall is common, as it collects and directs large amounts of run-off water away from the house. This type of gutter is especially great for homes with multiple stories or steep roof pitches. Made with custom segments welded together, this gutter requires minimal maintenance over time.
Custom Box Gutters
Custom Box Gutter is another specialized type of gutter often used on taller buildings with steep roofs. It combines all the benefits of a seamless box gutter with even greater efficiency in quickly directing run-off water down the roof slopes and away from the building structure. Normally made with galvanized steel or stainless steel, these custom gutters require little maintenance and can last for decades when properly cared for.
No matter what type of home you have or what style you're hoping for, there's sure to be a gutter system that meets your needs. Armed with the right information and understanding of each type, you'll be able to make an informed decision when choosing the ideal gutter system for your home.
Rain Gutter Benefits
Installing rain gutters in your home is a wise decision, providing essential protection from the elements. Rainwater can cause considerable damage to your property if it's not properly diverted away from your foundation and roof.
Protect Your Foundation
Rain gutters are an important part of protecting your home's foundation. If rainwater is allowed to flow freely off the roof of your home, it can leak into the foundation and cause potentially costly damage. Installing a properly routed rain gutter system will ensure that water is directed away from the base of your house and save you money in the long run.
Protect Fascia and Soffits
By routing the rainwater away from the fascia boards on your roof, rain gutters help prevent rot, mold, and water damage. Installing a good rain gutter system will keep your fascia boards safe and reduce the need for costly replacements.
Protect Landscaping
Heavy rains in San Antonio and central Texas can quickly wash away soil, kill plants, and create extra yard work for you. Properly installed rain gutters help direct water into downspouts or rain barrels, keeping your landscaping intact.
Prevent Soil Erosion
Installing a rain gutter system not only helps protect your landscape; it also helps protect your grass from washout due to heavy rainfall. Installing high-quality gutters will save you time and money on lawn maintenance over time.
Enhance Home's Beauty
When it comes to aesthetics, Gutter King has you covered. We offer an extensive selection of colors and materials to match the look of any home. With our attention to detail, you can trust us to install a beautiful and functional rain gutter system that looks great for years to come.
Added Value To Your Home
In addition to its other benefits, a new gutter system is also an investment into the value of your house. Protecting your roof, yard, foundation, and home with seamless gutters can enhance the value of your property down the line.
Gutter Repair Services
When it comes to repairing existing gutters, nobody does it better than Texas Gutter King. Our technicians use premium materials and have the expertise to quickly identify and rectify any problem with your gutter system, ensuring that your home is fully protected from the elements.
Quality You Can Count On
At Texas Gutter King, we believe in providing our San Antonio customers with the highest quality service possible. We never cut corners or skimp on materials, and we always go the extra mile to ensure your complete satisfaction. From start to finish, you can count on us to get the job done right the first time!